Sunglasses day, this year is being celebrated on the 27th of June 2016. To celebrate the special Sunglasses day, many optical store in India like GKB Opticals are offering special discounts and offers, for their customers. Sunglasses have become more than just branded eyewear owned by elites and fashionable people. They are now a part of most fashionable people's wardrobe and are a regular accessory at Runway events too. Stylish sunglasses from Ray Ban has always been a symbol of style and luxury and it's no secret that Ray Ban has been the most coveted sunglasses brand worldwide, since the last few decades.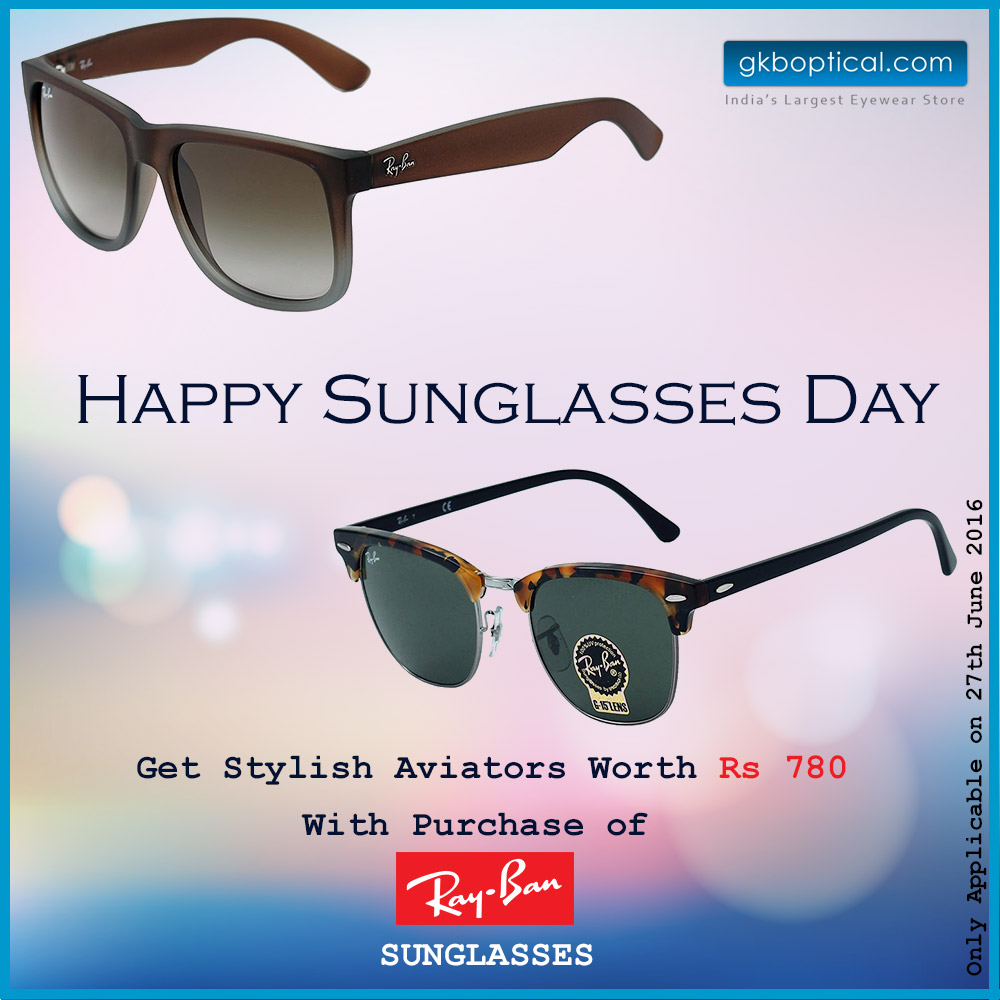 Log into GKB Opticals website and avail exciting offers from GKB Opticals. The retailers of Ray ban Sunglasses in India, GKB Opticals, is offering a free stylish Aviator Sunglasses worth Rs 780, with every purchase of Ray Ban Sunglasses. So, walk in and pick your pair of Ray Ban Sunglasses and get a stylish Sunglasses free too. Well, you might wonder what the use of an extra sunglass is, but we all have days when we don't want to wear the expensive sunglasses from Ray ban. So for those days this UV protected stylish sunglass will work its magic.
Did you know that you can also get Ray Ban Power Sunglasses done to suit your specific vision needs. Many people are not sure about wearing sunglasses as they are not sure about getting proper prescription sunglasses India. But at GKB Opticals you can get genuine Ray Ban Power Sunglasses at the best price. GKB Opticals is the best solution for purchasing Ray Ban Sunglasses online and at stores. Shop the latest range of Ray Ban Wayfarer Sunglasses online as well as Ray Ban Aviator Sunglasses, which are their top selling products. Another favorite design is the Club master style Ray Ban Sunglasses. Not only style, but these sunglasses are also protective, as they provide ample protection for eyes. The Ray Ban Polarized Sunglasses are the best protective sunglasses available in India and are a great choice for customers of all age.
These branded eyewear are one of the topmost selling premium sunglasses and the option of getting prescription sunglasses India has made them even more popular. The best part is that one can get their Ray Ban Sunglasses customized to their power and prescription. Get the best range of Ray Ban Sunglasses and stay protected this summer. Isn't that a lovely deal after all?