Your glasses are important and whether or not you wear them daily, it's required that you keep them safe. Eyeglasses can wear off with regular wear and tear and both the Eyeframes and lenses can get damaged with regular use. Lenses can get scratched with regular usage from things like clothes, dust etc and from other mishaps. Also if not stored properly it can get scratched from foreign objects which are stored together. This makes it important to keep it safe throughout the day.
Here are the steps you should take to keep your glasses protected everyday.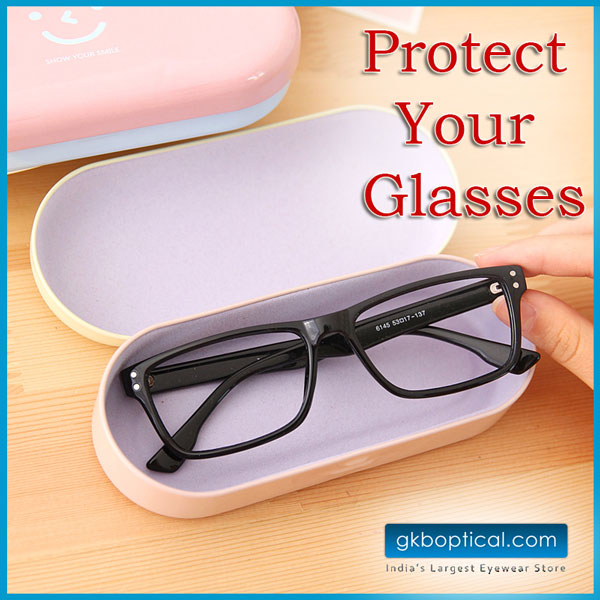 Step 1: Keep Your Glasses in A Case
We all know that keeping spectacles open or in a space where it can come in contact with sharp objects is not at all advisable, but we mostly disregard this. Sometimes we keep spectacles in bags or purses or in pockets, forcing them to get scratched by items like keys, coins, pens and many more things. IF you wear polycarbonate lenses with coatings, this will make visible scratches on your lens surface and damage your lenses over time. Scratches damage the coatings like UV coatings, dust free or water resistance coatings and create disturbing scratches on the surface. Glass lenses show more resistance to scratches but nonetheless keeping them safe in a box is required. Always use spectacle cases for your eyeglasses when they're not in use.
Step 2: Clean properly
Another mistake that most spectacle wearers make is not using appropriate cleaning solutions and soft cloth for cleaning lenses. Everyone has at least once used their clothing's to clean their glasses on the go, since they got soiled or needed immediate cleaning. But lenses can get damaged when proper cleaning solutions or cleaning cloth is not used. It's advised to use either lint free clothes or microfiber cloth to clean the lenses.
Also use proper solutions for cleaning the lenses like lens cleaning solutions meant to be used for lens cleaning. Or use plain water to wipe off the dust particles in running water and wipe gently with a microfiber cloth.
Step 3: Know When to Replace your Lens or Frame:
It's necessary that you know when to replace your lenses or frame. Lenses and frame both get worn out with regular use and it's necessary that you know when to replace your lenses. The time to change your lenses can be when your lenses get scratched too much or if they start developing cracks. Sometimes your visit to the doctor might indicate that your prescription has changed. For spectacles frames, when your frames show signs of damage like peeling, or breaking of parts, or damage to the nose bridge or the temples, you might want to get a new pair as soon as possible.
It's easy to change your lenses or frames; you can do it at a shop or buy it online. For online purchases, you can choose www.gkboptical.com and choose from a wide variety of 1450+ frame designs and many lens packages to suit your needs and budget. You can choose from designer Eyeframes or simple affordable eyeglass frames whichever your requirement is. You can also choose between full rimmed, half rimmed or rimless Eyeframes depending on your face shape or the look you personally prefer.
You can get rimless frames if you're looking for a clean look where your glasses create the least obstructions. These frames also are quite weightless so you'll feel as if your spectacles have lost weight. Rimmed frames offer a change in your look and give you a more polished professional look. Whereas full rimmed frames help to give you a differen look altogether.
No matter what frames or lenses you get, it's important to get scratch resistant lenses to reduce lens damage. Also don't take your glasses near high heat or very low temperatures where it can function properly. So these are some ways by which you can make your eyeglasses stay in great shape for a longer period.